How to make an edible arrangement
My sister's birthday was last week and I really wanted to make her an edible arrangement. She had received one before and loved it so I knew it would be a good idea. They seem pretty simple to make right? Just cut out fruit and put them on sticks. Well I knew that it would be a little harder than that so I tried to look up some tips and tricks online and found none! Several people posted about making one, but didn't give any ideas on how to make it easier.
So I decided that as I was making this one I would jot down little things that I learned that would make it easier to make an edible arrangement should any of you ever be interested in doing one too. So here is how I went about making one, hopefully it gives you some good ideas too!
First look online and pick an arrangement that you would like yous to end up looking like. Then you have to get all the different kinds of fruit. For my arrangement I went with pineapple, strawberries, grapes, apples, cherries, cantaloupe, and of course chocolate. You will also need bamboo skewers, knife and cutting board, melon baller, cookie cutters (mainly for pineapple), something to arrange it in (I used a glass pot filled with styrofoam and pretty paper on top) and I also used lollipop sticks and toothpicks.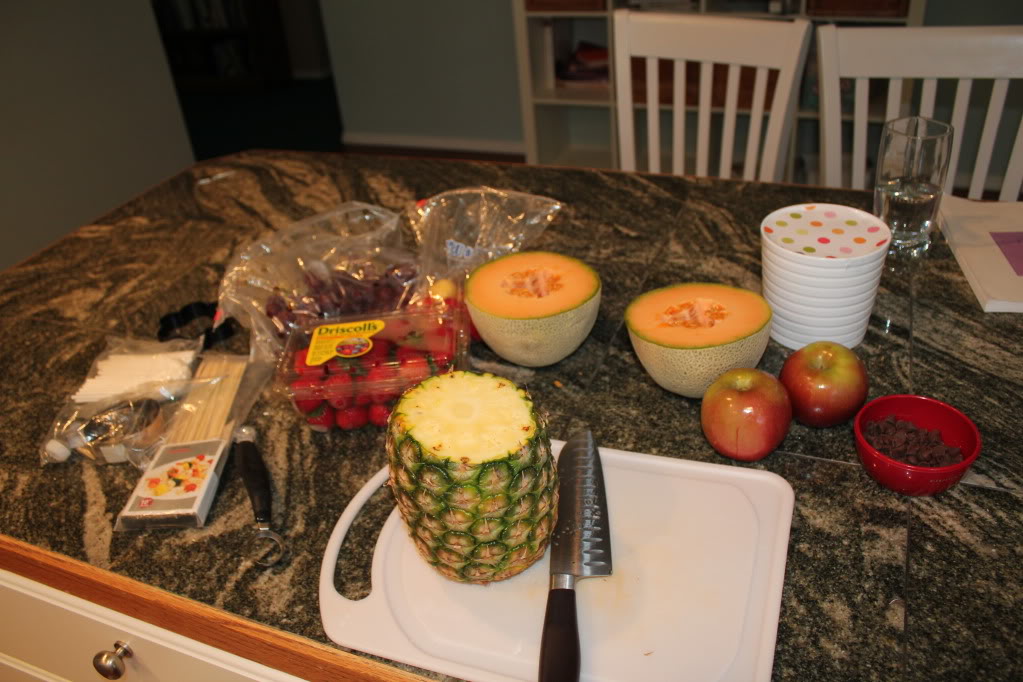 Because you are dealing with fresh fruit you want to make it right before you deliver it, or have it at your party. You can refrigerate it, but I would still make it the same day. Mine took about 1 hour to make start to finish.
I decided that I would prep everything first and then begin assembling it. As you can see I started with the pineapple. I trimmed of all the sides and then sliced them into 1/2 inch slices. You want them to be thin so the pieces aren't too heavy. Then cookie cutter them out in whatever shape you want.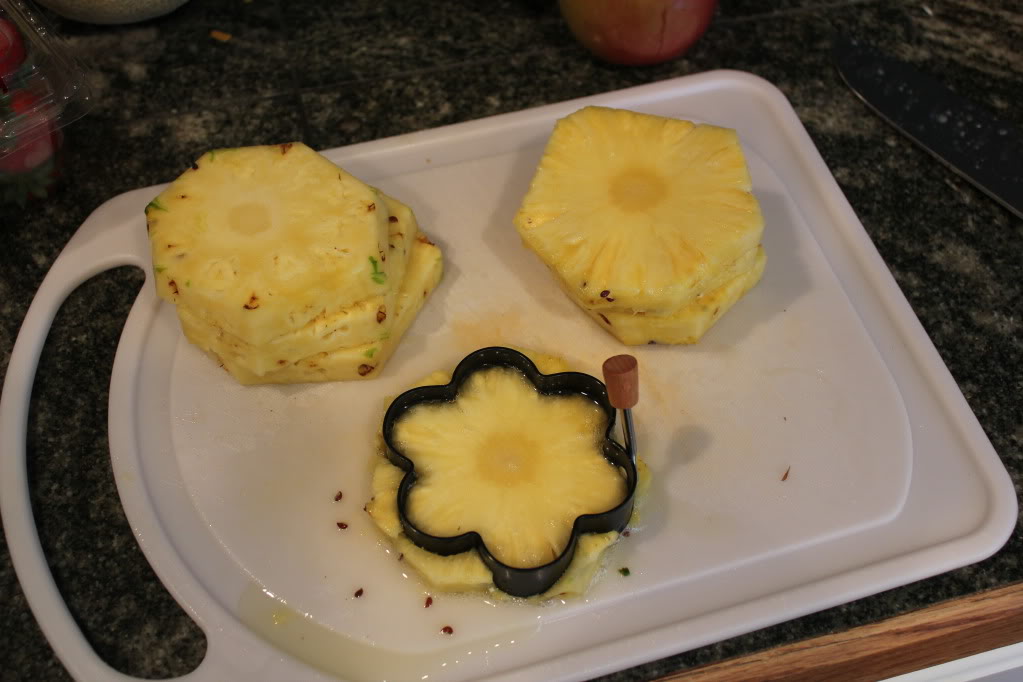 Next I used my melon baller to make little balls on cantaloupe to go on the center of my pineapple flower.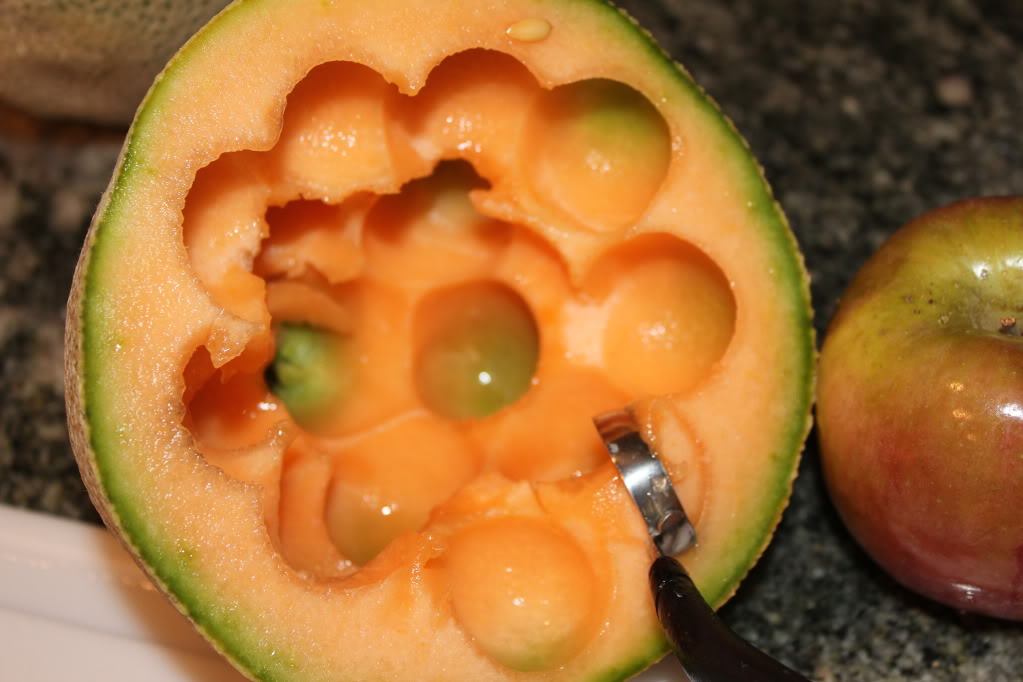 Then I removed the stems from the strawberries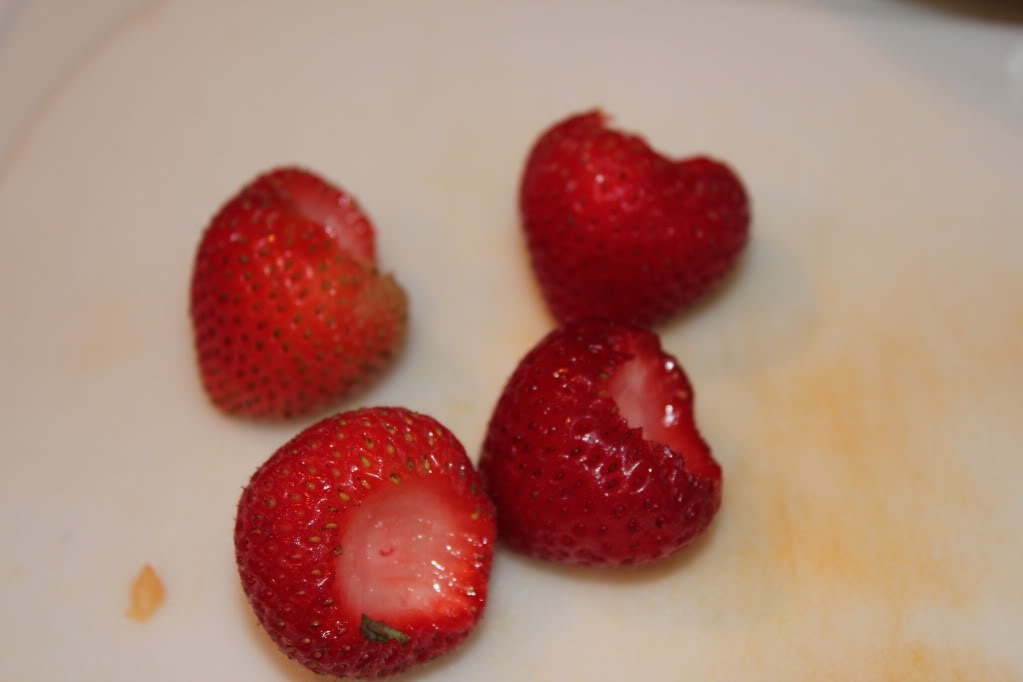 And finally put everything on sticks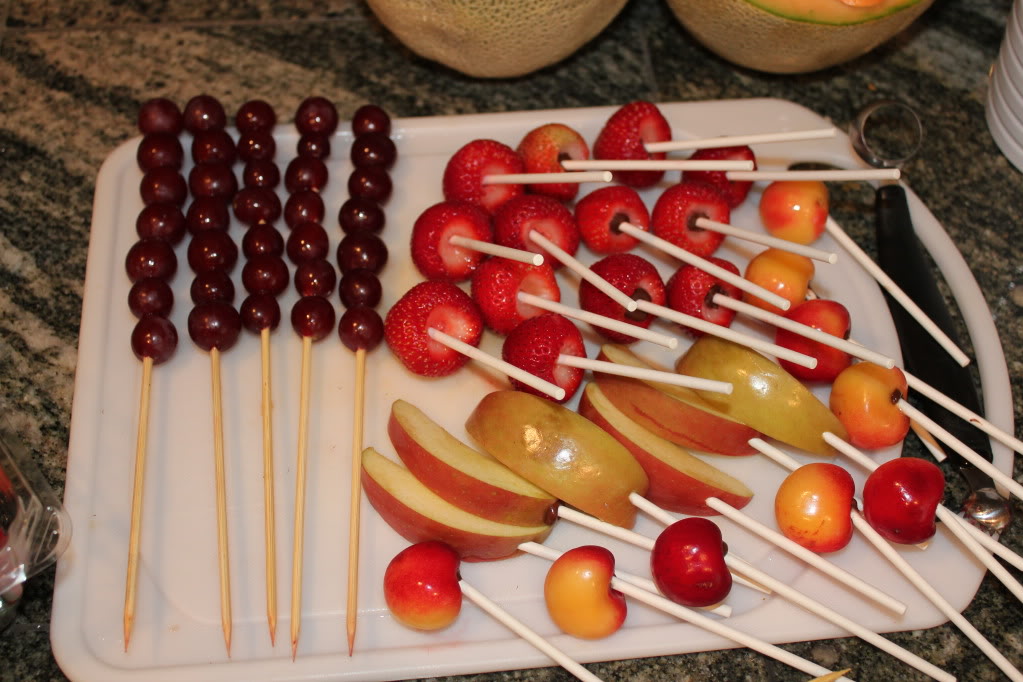 You want to make sure you put lemon juice on your apples after slicing them so they don't turn brown (I forgot this step...). Now they are ready for chocolate!
When melting your chocolate chips, make sure you add some milk so you have a nice smooth consistency. I dipped my pineapple in plain melted chocolate and they were not smooth! But hey, they still tasted great. Another thing that I found is it is actually easier to dip the fruit in chocolate before putting them on a stick. That way you can stick them in the freezer to harden them up a bit so you don't get chocolate hands while arranging everything.
After your fruit is dipped in chocolate and you are ready to put them on a stick I found it helpful to dip your stick in a little bit of chocolate so when it hardens it will help keep the fruit in place. That is why you see little spots of chocolate on the sticks in the fruit. I didn't do this with the grapes though, they stayed just fine.
When you are ready to place your pineapple on the skewer do it at an angle, it will help while you are arranging the piece.
Once everything is ready, you can start assembling it together.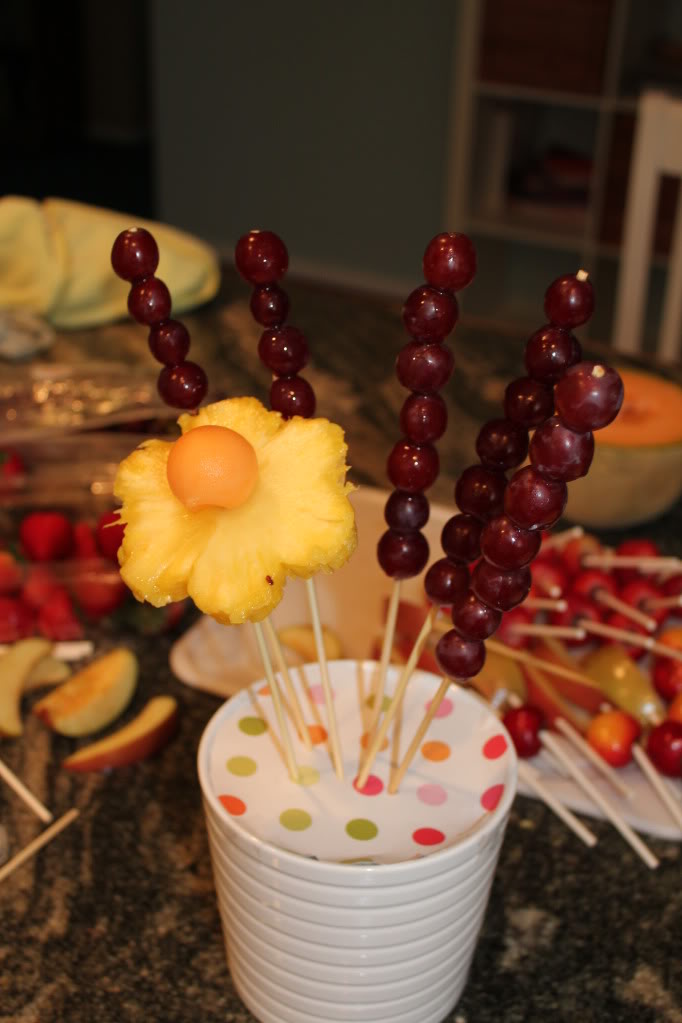 And before you know it you have an arrangement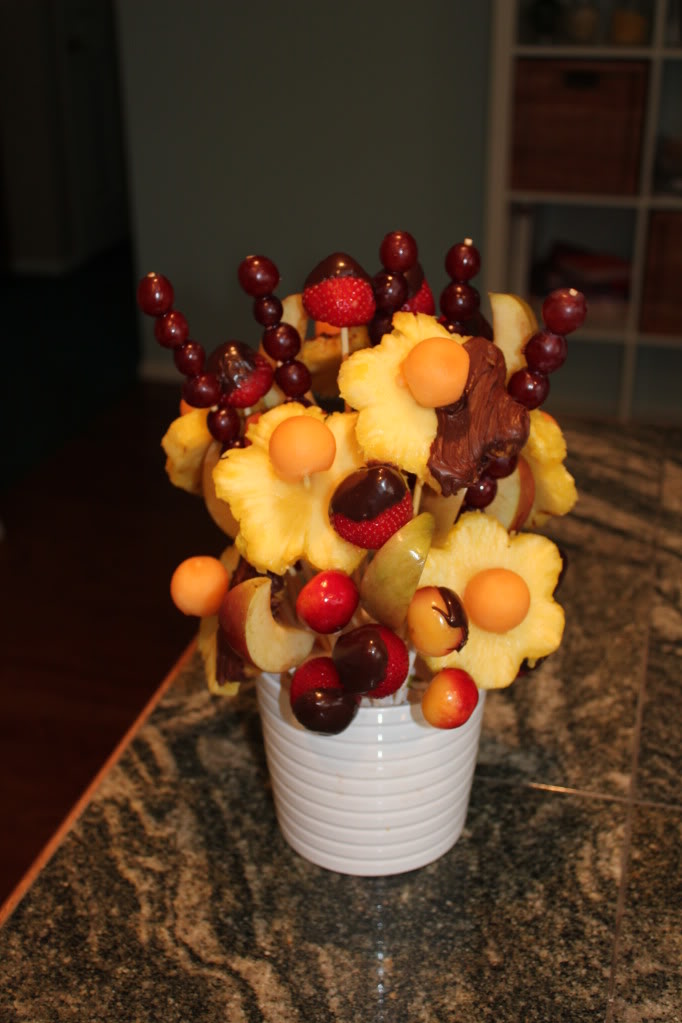 Does it look perfect? No, but it tastes great! After completing it I thought of a few more things I would try the next time I made one. I think it will help to make it look better in the end.
I would not put as many pineapple flowers, I did 8. They take up a lot of space and are difficult to work around.
I think it might be easier to put the skewers in first, then put the fruit on. Once I had half the fruit in place, my hand couldn't fit near the bottom to put more sticks with fruit on them in. That is when I stuck some sticks in by themselves and added the fruit. That worked great.
I also found that using toothpicks worked great in filling in the space at the bottom of the arrangement.
Well I hope there were a few tips that might make it easier for you to make an edible arrangement. If you have made one or do make one and think of something else please let me know! I am looking forward to trying this out again.
Happy Birthday Tonya, I hoped you enjoyed your gift! Dallin said I should make them more often, he loved the variety of fruit we had leftover (and of course the chocolate to dip it all in)