Benton's Sayings
Benton seems to become more funny as he gets older. The things his little mind comes up with is amazing really, but sometimes its just funny. Here are a couple of things he's come up with lately.
Last month my visiting teachers came to visit. Emmett was just waking up when they got here and Benton was in the other room. I opened the door and welcomed them in, went and grabbed Emmett and then I heard that Benton needed to use the restroom. I gave Emmett to one of the women and took Benton to the bathroom. So when Benton came into the room he saw Emmett in someone else's arms. They stayed for about 30 minutes and Benton played with Emmett a little bit during the visit. When they left Benton was concerned that they didn't take Emmett with them. I thought that was silly but didn't think anything of it. A few minutes later we loaded up in the car to leave. I put Emmett in first and then Benton. Benton looked over at Emmett and said, "He's coming with us?" I said, "of course Emmett is coming with us." He looked at me and said, "That's our Emmett?" Then it hit me, Benton thought that our Emmett was still sleeping and since he walked into the room with the other woman holding "our Emmett" he thought that there were two Emmett's and that he was theirs! I laughed and laughed.
I must preface this next story with a reminder that we have recently gone through potty training. He is pretty good now but we still have the occasional accident. One evening when we were about to get Benton ready for bed I changed into my pajama pants. Benton asked me what I was doing and I said I changed my pants. His automatic response was, "Because you peed your pants?" It was so funny! Dallin was in the other room and started busting up. Just to clarify, no it was not because I peed my pants.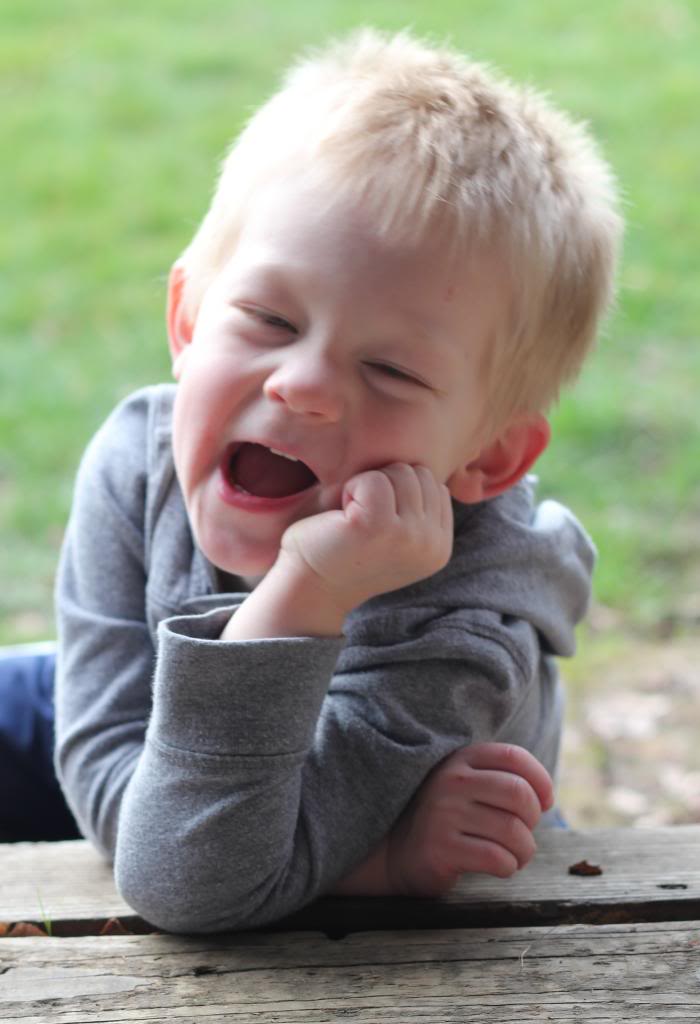 This one is more cute than funny. A couple of weeks ago Dallin went out of town for a few days. He went to Texas for work. I told Benton that Daddy went on an airplane ride to Texas and he instantly asked if he could go too. Then he came up with a whole story that went a little something like this, "I'm going to get on the airplane and I'm going to put my seat belt on and Emmett is going to put his seat belt on and you are going to put your seat belt on and Daddy is going to put his seat belt on so we can be safe. Then I'm going to pull the trigger and we will drive. We will drive all the way to Texaco." He told this story many times and he added more each time. I especially like, "pull the trigger".
What do you want for your Birthday Benton? "Anything I would like."