A touch of Fall
Last week I pulled out all of my fall and Halloween decorations. I was happily surprised when I found a lot more in the box that I thought was there. Then I remembered that I had picked up a few items at Goodwill after the season last year. I am so glad that I did! After putting everything out I decided I needed to add a few touches to make it all look good together. Well I headed back to the wonderful (and super cheap) Goodwill to see what I could find. I rarely go to Goodwill and find the things that I am actually looking for, but I usually find something. Today that was not the case! I found tons of great stuff. The first thing I got was this wreath.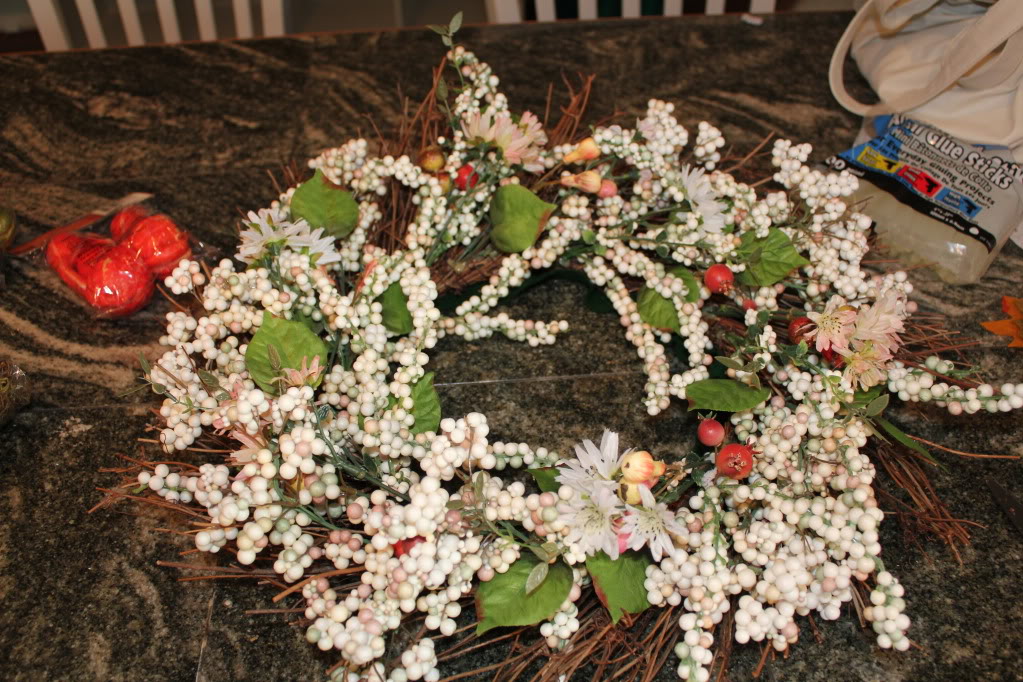 I have been wanting a wreath for a long time, I really didn't care what season it was for any of them would have worked. But I didn't want to pay a fortune for it. So this one cost me a whopping $1.50 or so. Good deal! But I wanted to add some fall colors to it. That is where the dollar store and the glue gun come in. Three more dollars and about 10 minutes and this is my new fall wreath. I love it.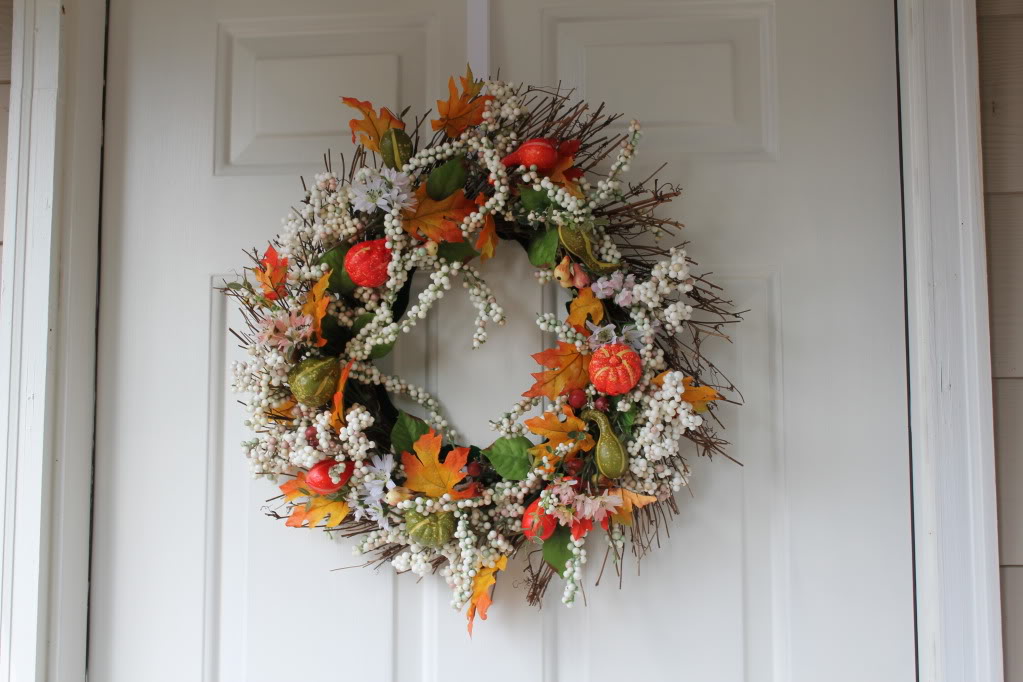 While Dallin was picking up a few last minute supplies for the shed I managed to sneak a few mums to the cart. I thought they would go nicely with this lovely topiary (something that I have wanted for a long time also), that I picked up for free on the side of the road. Yep, for free! Sometimes if you wait long enough you can get a really good deal on the thing you want, or even for free. I think it was worth the wait. The top two balls need to grow in a bit but who cares.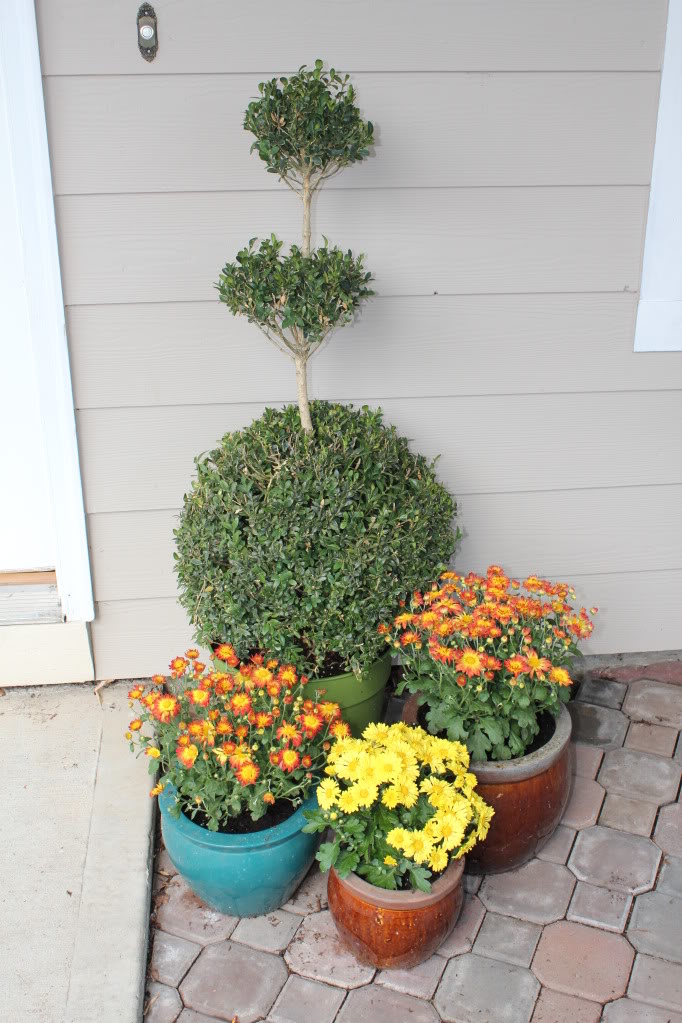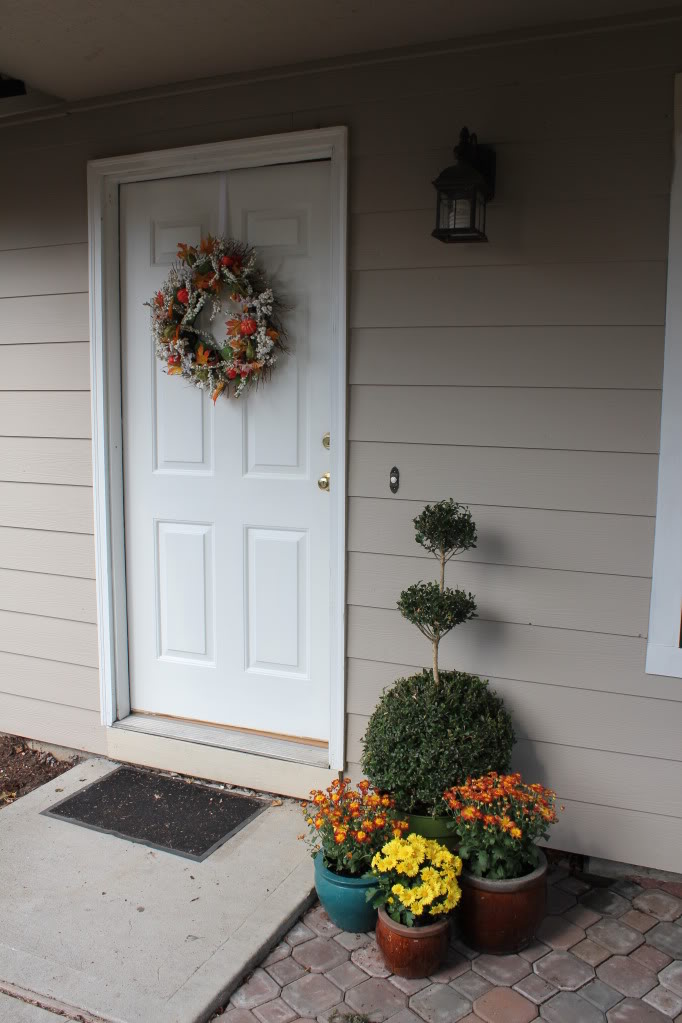 sorry about the bad lighting, I didn't want to wait and try again when the sun was better
Anyway there is a little touch of fall for you. There is more on the inside to show you soon!
Notice the lack of peach in the color of the house, yeah I love the new color. I still haven't shown it to you yet huh... whoops! And I just noticed that I definitely need a new door mat...