Dining Room Revisited
A few weeks back while my sister was over she mentioned that she never thought I would be so picky about what goes up on my walls. It threw me off, I didn't think I was that picky. I mean, if I like it then I will hang it up. But then I started thinking about what I wanted to be in
my new dining room
and concluded that she was right! So very right. It has been 5 months since we finished the dining room and just this week is when we finished hanging up our new little art collage. I guess you can call it art...
I didn't want it to take this long, in fact I bought the frames for it about 4 months ago. But I had so many things I wanted this "art" to accomplish. I'm sure you don't really want to know what I wanted but I am going to tell you anyway! First I didn't want it to be another wall collage of photos of us. I love my kids and think they are super cute, but I really wanted to incorporate other things into our house. I also wanted to incorporate a light blue color to match the dining room chairs. It needed to be uniform, because I am picky about things like that (again, she was right). Since it was going to be in the dining room, and we like to invite friends over for dinner (something we should do more) I wanted it to be a conversation piece. And lastly (maybe) I wanted to think of it myself, or at least not get the idea from Pinterest. I love Pinterest, don't get me wrong, but I have noticed that I have stopped coming up with ideas on my own because there are so many great ones on there. I wanted to make my mind work. Quite the list right?
After thinking about it for a while I finally got an idea. I wanted to create a silhouette image from photos of places that Dallin and I have been. I know that silhouettes have been around for a while, and that travel pictures have been too. But I haven't seen anything like this, that isn't to say that no one else has done it. Now, how to do it? Cue, Dallin masterofallthingsphotoshop. When I ran the idea by him he got started that night! I came up with the pictures and he started making them. After making a couple he showed me how, and I finished the last few. I was able to purchase two shapes through the silhouette website and then I cut them out using my silhouette machine on white vinyl. The vinyl went on the outside of the glass to create depth, and I backed them with the light blue paper. Voilà, we've finished, and accomplished everything I wanted! Being picky can have it's benefits.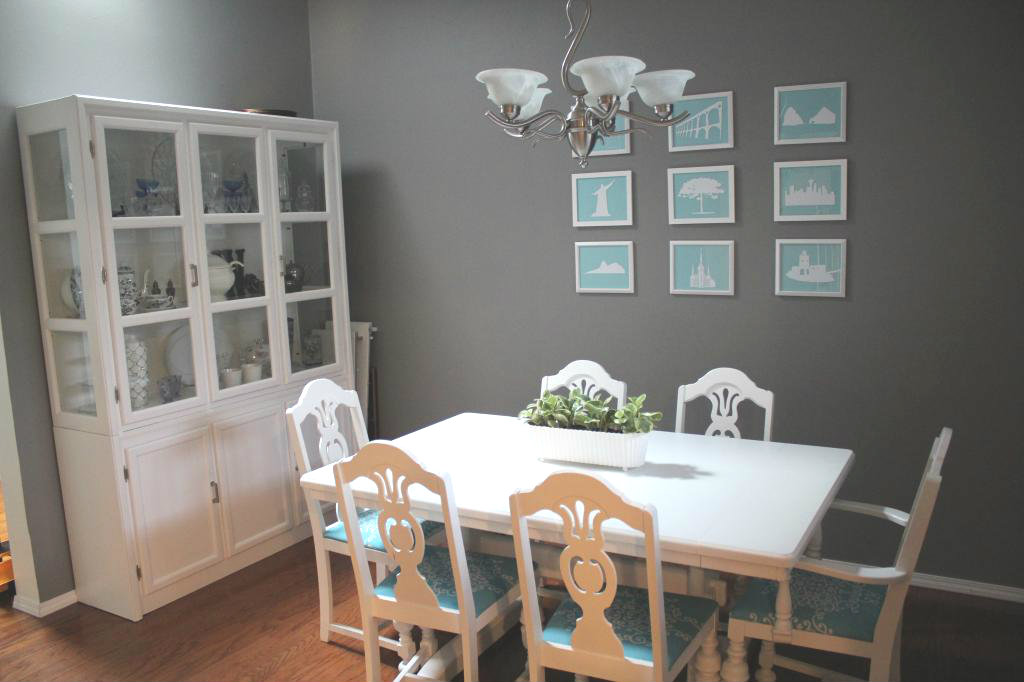 Here is a closer shot.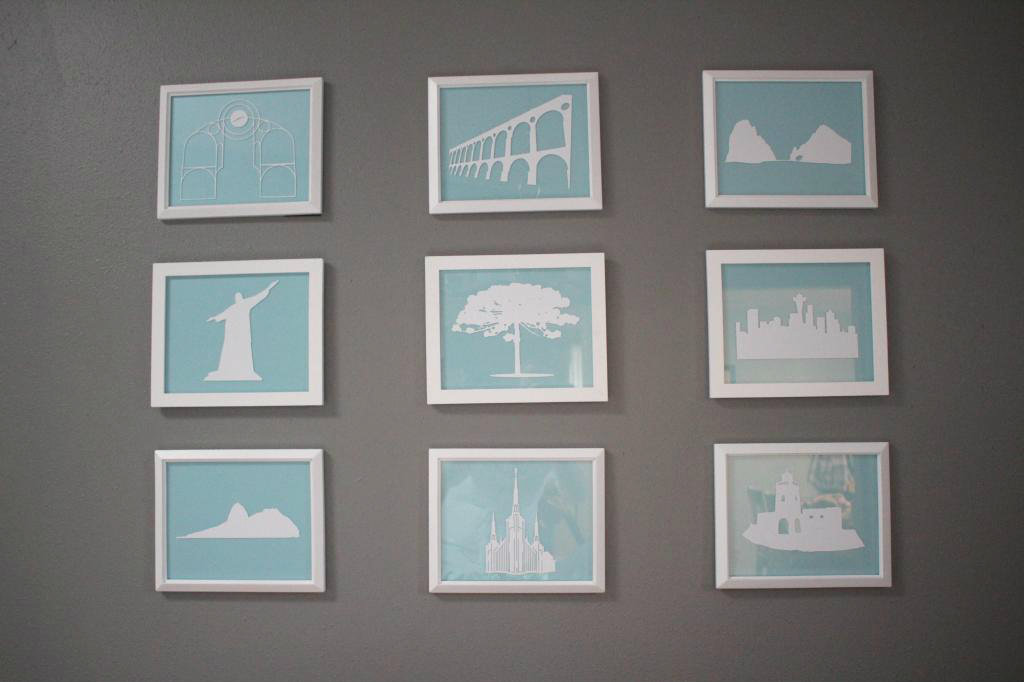 I bet you recognize a few of them, but in case there is one you don't here is a quick rundown of what they are of. Top left to right, 24 hour street in Curitiba, Brazil. Arches of Lapa in Rio de Janeiro, Brazil. The arch in Cabo San Lucas, Mexico. Middle left to right, Christ the Redeemer Rio de Janeiro, Brazil, Araucaria tree in front of LDS temple in Curitiba, Brazil. Skyline of Seattle, Washington. Bottom left to right, Sugarloaf Rio de Janeiro, Brazil. LDS Temple Portland, Oregon. Brockton Point Lighthouse, Vancouver, Canada.
It has been a fun reminder of some of the places we've been together, and inspiring to add a few more!