A Bumper and a Skirt
Remember how I had that goal of finishing the crib set this week? I actually achieved that! Thursday night I finished the crib bumper and the crib skirt. That was a great night. Dallin came into the room as I was finishing and I said to him that the baby can come anytime now since his crib set is complete. He replied, "Hopefully not, I will still have to work." Ok, baby please don't come early. Not that I thought he would! I am still planning on a few days late.
So let me tell you a little bit about the fabric first. A few months ago I decided on a gray and white theme. It wasn't until just recently that I added the Sunshine to it. I really wanted to get a fabric that could be the focal piece of the room since I wasn't having a theme that you can decorate around like and animal, boats, or cars. I really wanted this fabric to be bold and stand out. Naturally I headed to JoAnn's to see what they had. I left the store quite disappointed. They didn't have anything close to what I had in mind. So next I went to Mill End in Beaverton, that trip ended with the same result. At this point I started to get nervous.
What is the next thing to do? Look online. After hours of searching with finding a few things that might work but I didn't really like I stumbled upon
Spoonflower
. Have you ever heard of that website? I hadn't, but since then I have heard about it a lot! It is a great site that you can design your own fabric and have it printed. Quite genius. You can also design fabric to sell. While browsing though their gray options I found the perfect fabric! I really wanted something white with a gray design that was simple and bold. But there was one problem, the print was too large, it wouldn't work for the bumper. So I contacted the designer
Honey & Fitz
and asked her to re-size the print so I could use it. She did! How awesome is that? So this little boy has a custom designed custom made nursery set. Fancy huh? You can check out the other fabric she has designed
here
if you want.
Here is the crib all put together.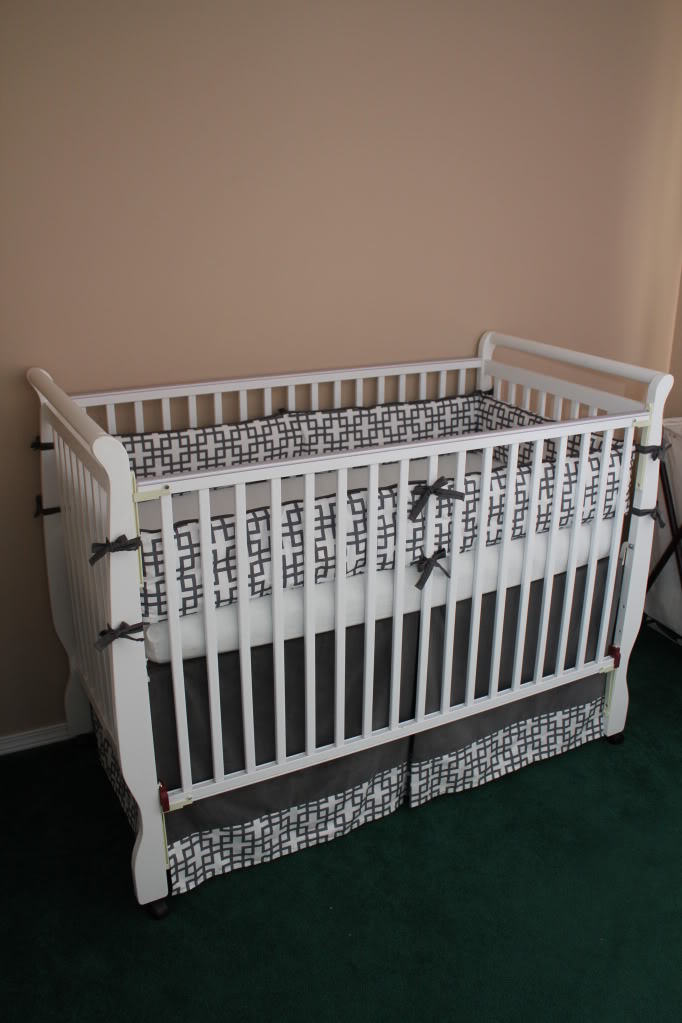 Isn't that fabric great?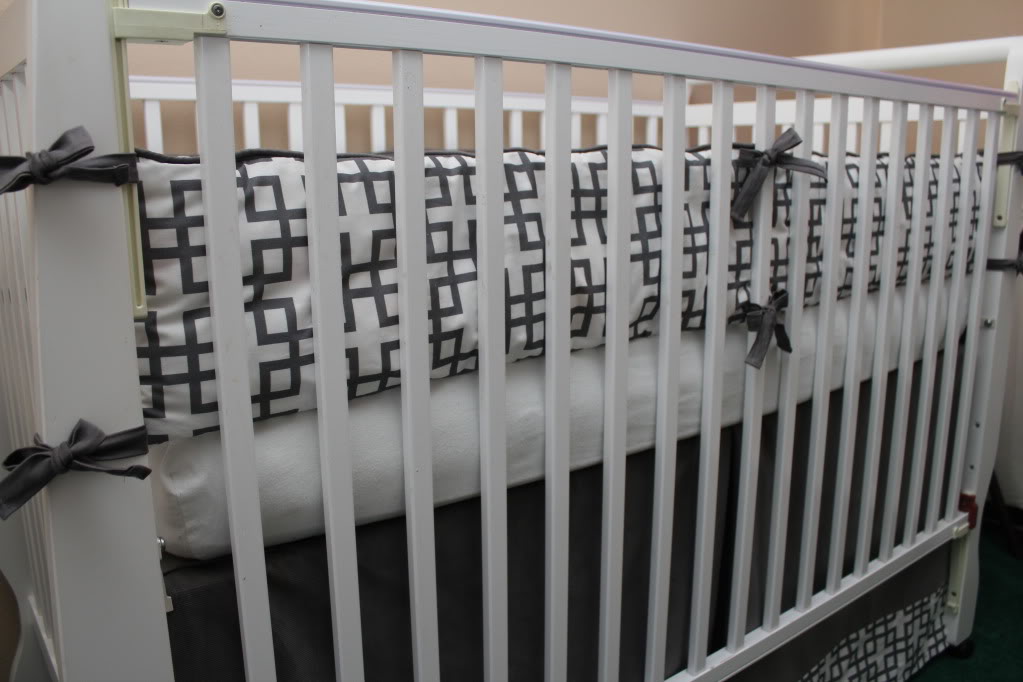 It is so nice to have something that you picture in your head turn out exactly how you want it. I simply love this crib set.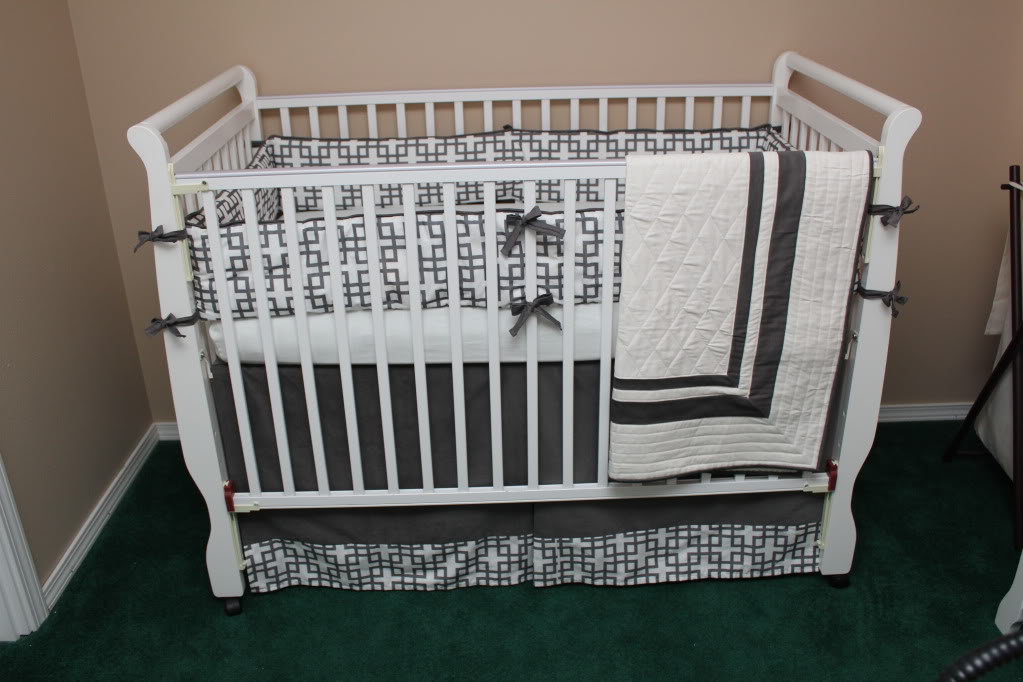 Can you see my little helper?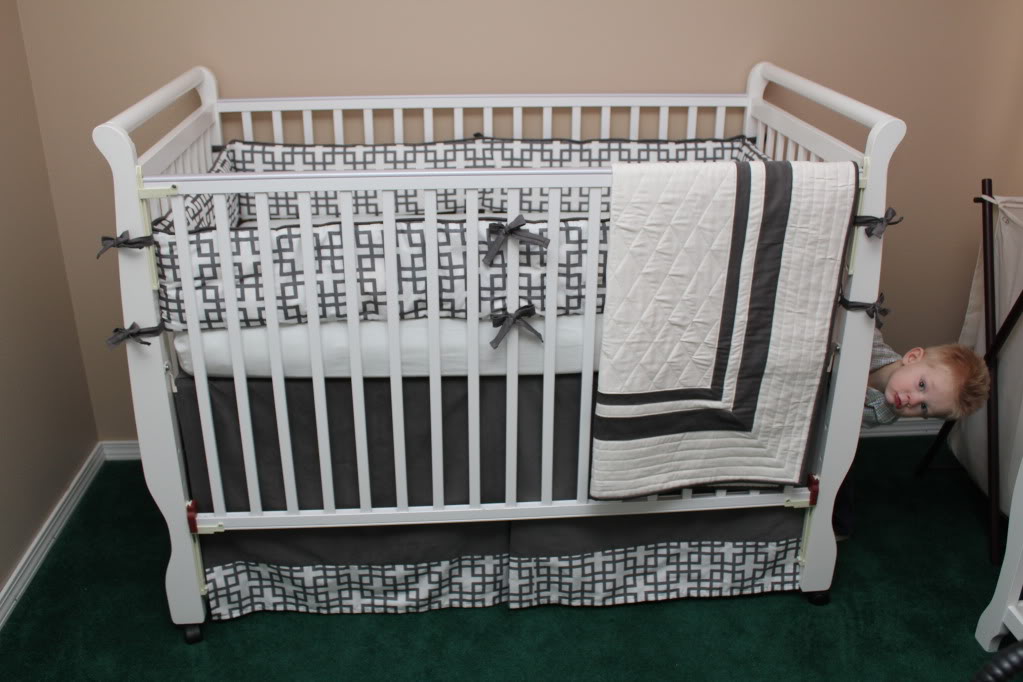 He kept pointing to the crib and saying "baby". Yep bud, that is for the baby.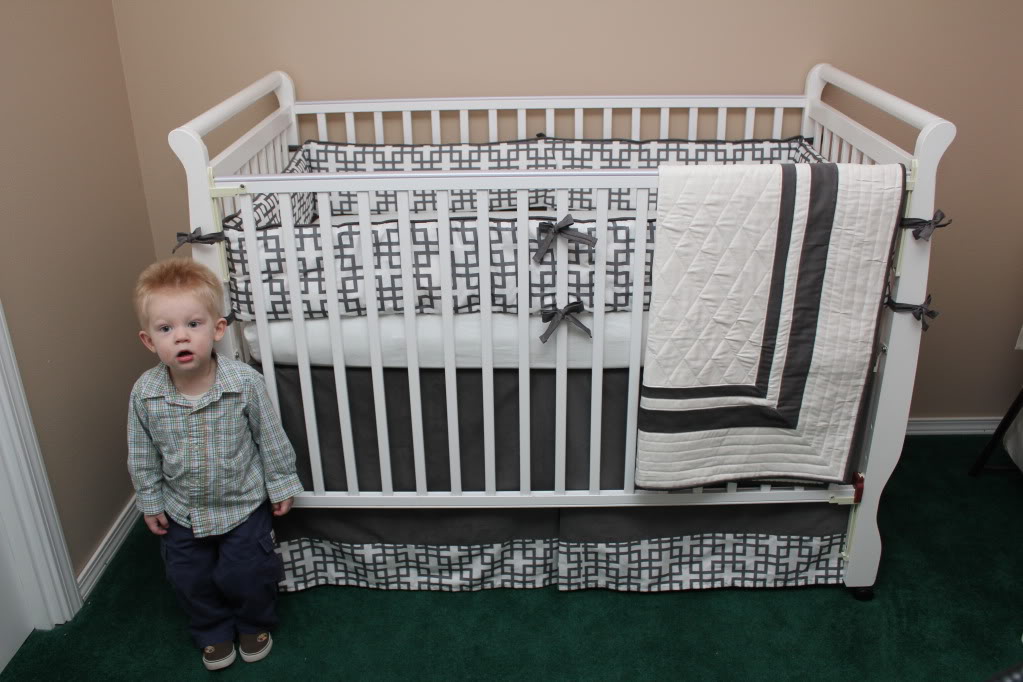 Now we have just a few more touches to make the room complete.